Who Uses NeurOptimal®

Dynamical

Neurofeedback®?
NeurOptimal® is a great tool to have as part of a wellness program as it is designed to promote a flexible-and-resilient mindset. No matter where your lifestyle takes you—from athletes to executives to students, performers or artists, no matter the age– an optimal mindset helps you to be your best.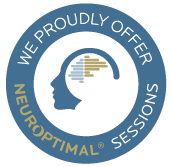 Is Your Brain Functioning Efficiently?
Your brain is capable of optimal functioning, but for most of us our central nervous system gets knocked off by the challenges of daily life and the brain operates inefficiently. Manifestations of a less than optimally functioning central nervous system can include: •memory problems •poor performance on tasks •not waking refreshed •feeling low •difficulty paying attention •overactivity •feeling nervous •drinking more alcohol than is good •head hurting •catching colds and infections •irritability •feeling stressed and overwhelmed
Here's what Clients are saying:
Cutting Edge Technology: A blazingly fast, highly cost effective and pleasant way to achieve Optimal Form and Functioning. NeurOptimal® is indescribable in words but must be experienced. (C.P.)
Life Changing: I no longer overeat, overdrink, overwork, have outbursts or feel discouraged; I don't feel overwhelmed, not biting my nails, less tension in my jaw, no sweaty hands, no speeding tickets...All of these and many other gains are still intact after losing my spouse and the love of my life. I used NeurOptimal® as a grieving tool and it kept me stable. I am thriving. (S.T.)
Game Changer: Everyone should be assigned a NeurOptimal® System at birth! (C.B.)
Academic Success: A 14 year old boy was failing all of his courses in September and October. After just six sessions of NeurOptimal®, he started getting straight As and continues to do well. (D.B.)
Optimal Mind = Optimal Life NeurOptimal® Dynamical Neurofeedback® Located off Thorndale Dr, Waterloo